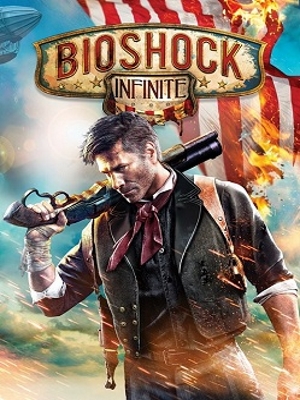 BioShock Infinite
is a
first-person shooter
video game in the
BioShock series
, developed by
Irrational Games
and published by
2K Games
.
Infinite
was released worldwide for the
PlayStation 3
,
Windows
,
Xbox 360
, and
OS X
platforms in 2013. The game is set in the year 1912 and follows its protagonist,
Booker DeWitt
, who is sent to the airborne city
Columbia
to retrieve
Elizabeth
, a young woman held captive there. Booker and Elizabeth become involved in a class war between the
nativist
Founders that rule Columbia and the rebel Vox Populi, representing the city's
underclass
. Elizabeth possesses the ability to manipulate "Tears" in the
space-time continuum
, and Booker and Elizabeth discover she is central to Columbia's dark secrets. The player controls Booker Dewitt throughout the game, fighting enemies and scavenging supplies, while the
computer-controlled
Elizabeth provides assistance.After the 2007 release of
BioShock
, Irrational Games and creative director
Ken Levine
initially wanted to do something different than a sequel. However, they later renegotiated with 2K to work on another
BioShock
game. Irrational based the game's setting on historical events at the turn of the 20th century, such as the 1893
World's Columbian Exposition
, and based the story on the concept of
American exceptionalism
while also incorporating influences from more recent events at the time such as the 2011
Occupy movement
. The relationship between Booker and Elizabeth became central to the story, with the team working to make Elizabeth feel like a real character rather than a computer-controlled sidekick.