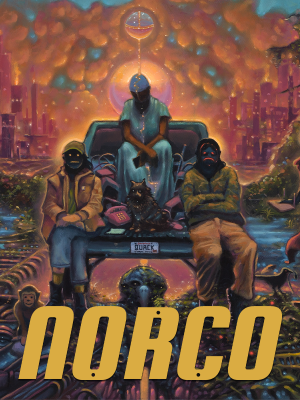 Norco
is a 2022
point-and-click adventure
video game released for
macOS
and
Microsoft Windows
on March 24, 2022.
[1]
The game takes place in an alternate version of
Norco, Louisiana
. Before its formal release, the game won the inaugural Tribeca Games Award at the
Tribeca Film Festival
in 2021.
[2]
Ports for home consoles were released on 17th November 2022. The game is set in an alternate version of Norco, a town in Louisiana, and in other portions of the state around
New Orleans
.
[3]
The game follows Kay, a woman who has returned to Norco after her mother's death.
[4]
The game's developer goes by a pseudonym, Yuts, derived from a nickname for his grandfather.
[5]
Yuts spent his childhood and some of his later life in Norco.
[3]
Growing up, Yuts was "frightened yet transfixed" by the landscape in and around Norco, which has been shaped by the
petroleum industry
and hosts a major
Shell
facility which has
twice experienced catastrophic explosions
.
[3]