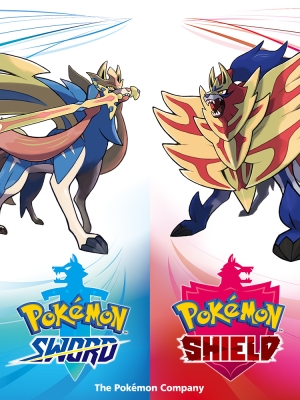 Pokémon Sword
[a]
and
Pokémon Shield
[b]
are 2019
role-playing video games
developed by
Game Freak
and published by
The Pokémon Company
and
Nintendo
for the
Nintendo Switch
console. They are the first installments in the eighth generation of the
Pokémon video game series
and the second in the series, following
Pokémon: Let's Go, Pikachu! and Let's Go, Eevee!
, released on a
home game console
. Originally teased at
E3 2017
and announced in February 2019,
Pokémon Sword
and
Shield
were released in November 2019. The games received two
downloadable content
expansion packs
through an expansion pass with
The Isle of Armor
, released in June 2020 and
The Crown Tundra
, released in October 2020. A physical bundle including both expansion packs with the base games was released in November 2020.
Sword
and
Shield
's
concept planning began immediately following the completion of
Pokémon Sun and Moon
in 2016, while full production began a year later in September 2017. Like previous installments, they chronicle the journey of a young Pokémon trainer aiming to become the Pokémon Champion, this time in the new Galar region, which is based on the
United Kingdom
. The main objective of the games is to dethrone the Pokémon League Champion, Leon, in a tournament that various other Gym Leaders and rivals also take part in, whilst dealing with Team Yell and a nefarious conspiracy within the League.
Sword
and
Shield
introduce
81 new Pokémon
- 88 in total including later DLCs- alongside
13 regional forms
of pre-existing Pokémon; Dynamaxing, which increases the size of Pokémon under certain conditions; Gigantamaxing, which additionally changes the form of certain Pokémon; and the Wild Area, which is a large, open-world area with free camera movement that contains co-op raid battles. The two games also reintroduce features previously seen in
Sun
and
Moon
and
Let's Go, Pikachu!
and
Let's Go, Eevee!
, such as regional forms and roaming Pokémon depicted in the overworld.