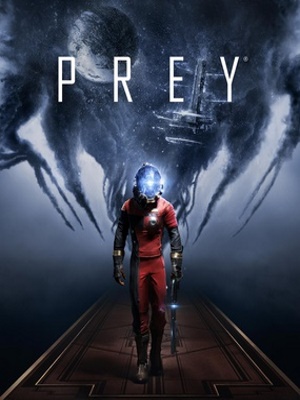 Prey
is a
first-person shooter
video game
developed by
Arkane Austin
and published by
Bethesda Softworks
. It was released worldwide on 5 May 2017, for
PlayStation 4
,
Windows
, and
Xbox One
.The game takes place in an
alternate timeline
in which an accelerated
Space Race
resulted in humankind taking to orbital stations far earlier. The player controls Morgan Yu while exploring the space station
Talos I
, in orbit around Earth–Moon
L2
, where they were part of a scientific team researching the Typhon, a hostile alien force composed of many forms with both physical and psychic powers, such as shapeshifting into a clone of any inanimate object. As the Typhon escape confinement, the player uses a variety of weapons and abilities, some of which are derived from the Typhon themselves, to avoid being killed while looking to escape the station. The player gains access to areas of the station by acquiring key items and abilities, eventually allowing the player to explore the station in an
open world
setting. The game combines elements of
role-playing video games
,
stealth games
,
immersive sims
and
Metroidvanias
in its design.